JoeyPinkney.com Exclusive Interview
5 Minutes, 5 Questions With…
Naseera, author of Kidra
(Keith Publications)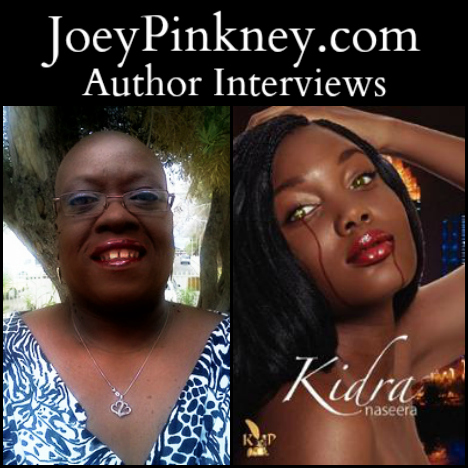 "Kidra" is about a woman who has had her destiny laid out for her the minute she was born. She is plunged into a world of Vampires, blood, lust, hunger and thirst – and the knowledge that she is Dracula's daughter from Africa.
With all her wealth and with all her powers, there's the one thing she doesn't have: the right to love and hold on to it. Mattheu, because she spurned him, will see to it that not only will she never love, but she must die to avenge his plight. He too suffers from love…
Joey Pinkney: Where did you get the inspiration to write "Kidra"?
Naseera: I was inspired by the fact that the only vampire movies of Blacks that I have seen has been the Blackula movies, Def by Temptation, Vampire in Brooklyn and Vamp. I then had to look at the genre as a whole and realized that the original version was about a love between a man, his woman and the way that she died. None of the movies really touched on that.
I wanted to write a story that would bring everyone back to the original theme. This isn't just about gore but about the one thing that Vampires are denied because they are damned, the one thing that has always compelled them: Love in its purest form. It truly is the one thing that they are denied, but it is also the one thing that they are trying to prove that they can have. It is the closet thing to what they used to be, which is being human.
JP: What sets "Kidra" apart from other books in the same genre?
N: From what I can see, "Kidra" is the first book to be written about a blood-born daughter of Dracula from Africa. It is a love story of a woman who is fighting to keep close to her human roots and is not proud of being a Vampire. It is a told not from the point-of-view of the love interest, but from the point of view of the Vampire herself.
JP: As an author, what are the keys to your success that led to "Kidra" getting out to the public?
N: Persistence, Prayer and trust in my ability to have the gift of words. Knowing that I do have a place in the literary world by presenting stories that are different and unique, then the genre that my works represent. For every word an author writes that is poignant, there is group that will read it.
JP: As an author, what is your writing process? How long did it take you to start and finish "Kidra"?
N: It took me eight months to write "Kidra". It seem to take a life of its own once I started it. I was convinced from the start that this was gong to really be a good story. I really felt attached to the story, and I am very proud of the work I have done.
JP: What's next for Naseera?
N: I love writing in the horror-romance genre, but I also like suspense romance as well. I have more titles coming forth in the horror genre. "My Beloved Cursed" is next and "Til' Death". For the suspense romance, I have "Evelyn". Then there is a possibility of a "Kidra Book Two".
Here is a teaser for "My Beloved Curse":
Love, uncontrolled, can blind you from the truth of another one's lack of acceptance. Darrius had no love. "Women are like flowers that need to be plucked," he would say.
The plucking of a maid's daughter caused the birth of a child that was openly denied by the father. The grandmother hated Darrius. She wanted revenge. She got her revenge with the curse.
http://www.wix.com/naseera11/kidra
http://twitter.com/NaseeraThAuthor
"I would like to thank you, Joey, for the opportunity to be heard and medially exposed. You are a blessing." ~ Naseera
[include file=current-advertisers.html]