JoeyPinkney.com Exclusive Interview
5 Minutes, 5 Questions With…
Queen Anoshi, author of Soul Mates: Meeting of Twin Flames
(Mari Q Presents)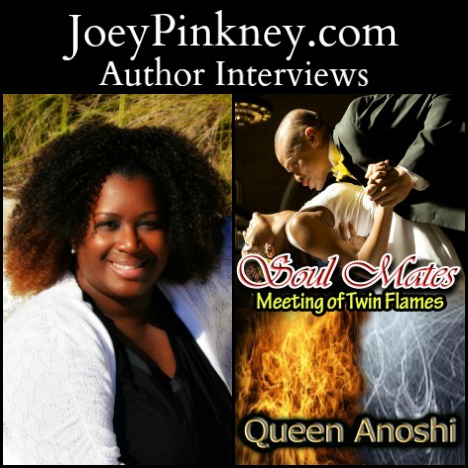 Shana and Dervin are two divorced parents who are successful in their respective businesses. Shana has built her life around her daughter and her creative design studio. She isn't looking for love but her heart is longing for something special. Dervin is satisfied with his mortuary and taking care of his daughter. Although he is currently dating , he isn't looking for a commitment.
After a chance meeting in a local establishment in Gainesville, FL, their lives are forever changed. The passion that is awakened in them will take the lovers to heights unknown. Secret desires will be answered, and love will embrace them both.
What happens when his ex comes into the picture and secret are revealed?  Will they have enough love to stand the test of time? What does it feel like to a woman finds her Soul Mate and Twin Flame?
Joey Pinkney: Where did you get the inspiration to write Soul Mates: Meeting of Twin Flames?
Queen Anoshi: Soul Mates was a personal short-story. This tale was never meant to be a book or to be made public.  A friend read it and told me I should make it longer and publish it.  Soul Mates was the first book that I have ever written, and love was my motivation.
Continue reading 5 Minutes, 5 Questions With… Queen Anoshi, author of "Soul Mates: Meeting of Twin Flames" →