JoeyPinkney.com Exclusive Interview
5 Minutes, 5 Questions With…
Patrice Tartt, author of Wounds of Deception
(Patrice Tartt Publishing, LLC)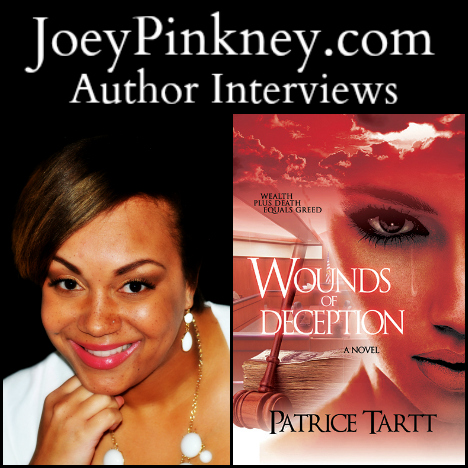 Christie Whitfield-Adams has the picture-perfect life: a husband who loves her, a thriving career, stop-in-your-tracks good looks, and an undeniable bond with her father, Kenneth. In a nutshell, Christie's living the typical American dream. When her father mysteriously falls gravely ill, his two sisters step up and begin to care for him while Christie puts life as she knows it on pause to be by her father's bedside.
However, when Kenneth's sisters begin acting strangely, just as things take a turn for the worse, Christie must put her grief to the side to figure out the mystery staring her in her face.
While Christie struggles with her own personal grief, she learns the many secrets that those closest to her worked hard to keep buried. There's missing money, missing personal items and, worse of all, there's deception being painted as "love".
Layer by layer, Christie begins to uncover exactly who had been for her father and who had been for betraying him and his legacy. Will the realization of what she once thought was perfect send Christie running in pain, or will she be ready to bandage up her Wounds of Deception?
Joey Pinkney: Where did you get the inspiration to write "Wounds of Deception"?
Patrice Tartt: I was inspired to write "Wounds of Deception" when I lost my father in 2011 to amyloidosis, a rare disease. My debut novel covers many topics that are considered taboo surrounding the illness and/or death of a loved one. Continue reading 5 Minutes, 5 Questions With… Patrice Tartt, author of Wounds of Deception →