JoeyPinkney.com Exclusive Interview
5 Minutes, 5 Questions With…
Samara King, author of Taking It Off
(Samara King Books)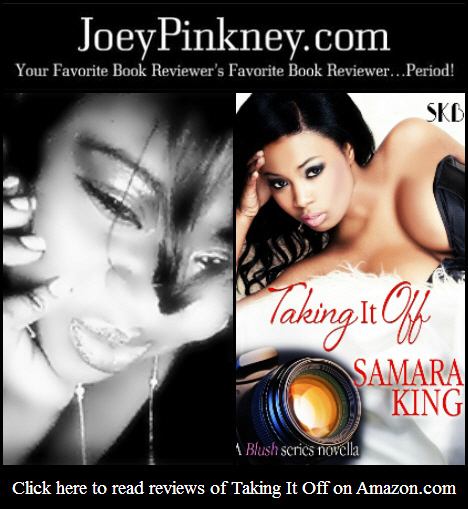 Elyse Langston is taking it all off. After shedding one hundred pounds, who would blame her for scheduling an exclusive boudoir photography session with Zion to celebrate her success? Her boyfriend – make that ex-boyfriend – Collin is not happy about her recent weight loss and dumps her. If there ever were a remedy for single girl blues, it would be watching Zion master the lens…as well as every inch of her body!
Zion is no stranger to the female form. Beautiful women strut and strike a pose before him daily. His no-strings-attached demeanor has been the fortress he's needed to keep his mind off the complicated matters of the heart and on building his clientele until Elyse strolls into his studio.
Joey Pinkney: Where did you get the inspiration to write "Taking It Off"?
Samara King: I got the inspiration for "Taking It Off" from various sources as the character's voice came to me, after reading "The Rose That Grew From Concrete" by Tupac Shakur. Elyse Langston, the heroine in "Taking It Off" has overcome a lot during her life journey, including losing weight after her mother dies from complications from Type II Diabetes. Continue reading 5 Minutes, 5 Questions With… Samara King, author of Taking It Off →