JoeyPinkney.com Exclusive Interview
5 Minutes, 5 Questions With…
Samara King, author of Taking It Off
(Samara King Books)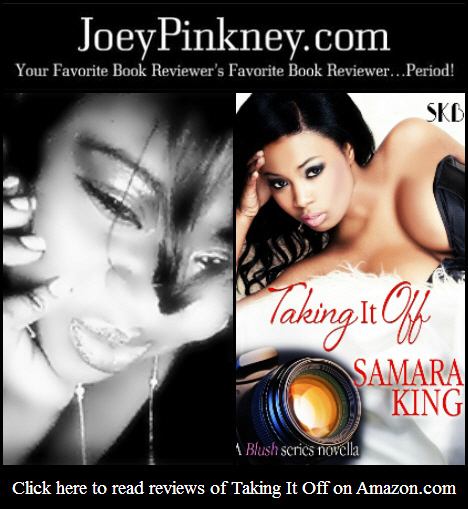 Elyse Langston is taking it all off. After shedding one hundred pounds, who would blame her for scheduling an exclusive boudoir photography session with Zion to celebrate her success? Her boyfriend – make that ex-boyfriend – Collin is not happy about her recent weight loss and dumps her. If there ever were a remedy for single girl blues, it would be watching Zion master the lens…as well as every inch of her body!
Zion is no stranger to the female form. Beautiful women strut and strike a pose before him daily. His no-strings-attached demeanor has been the fortress he's needed to keep his mind off the complicated matters of the heart and on building his clientele until Elyse strolls into his studio.
Joey Pinkney: Where did you get the inspiration to write "Taking It Off"?
Samara King: I got the inspiration for "Taking It Off" from various sources as the character's voice came to me, after reading "The Rose That Grew From Concrete" by Tupac Shakur. Elyse Langston, the heroine in "Taking It Off" has overcome a lot during her life journey, including losing weight after her mother dies from complications from Type II Diabetes.
JP: What sets "TAKING IT OFF" apart from other books in the same genre?
SK: I believe that "Taking It Off" is an emotionally and sensually charged book. Readers will be able to relate to Elyse's struggles and triumphs.
JP: As an author, what are the keys to your success that led to "TAKING IT OFF" getting out to the public?
SK: Being diverse in your craft and a continuous hunger for growth is very important.
JP: As an author, what is your writing process? How long did it take you to start and finish "TAKING IT OFF"?
SK: My writing process continues to change as I do as an individual. I believe in constant growth as a person, and I believe it reflects in my writing as well. It can take up to a year or a month depending on the project in terms of completion.
JP: What's next for Samara King?
S.K.: I currently have another release out entitled, "Sweeter Than This" and several more releases coming throughout this year.
http://charactersbehavingbadly.com
http://www.amazon.com/Samara-King/e/B0057AAIAA
http://www.facebook.com/authorsamaraking
"Readers be sure to check my website for updates on the Blush novella imprint and future releases." ~ Samara King
[include file=current-advertisers.html]