JoeyPinkney.com Book Review
"Archie's Psalm"
by Christopher D. Burns
5 of 5 Stars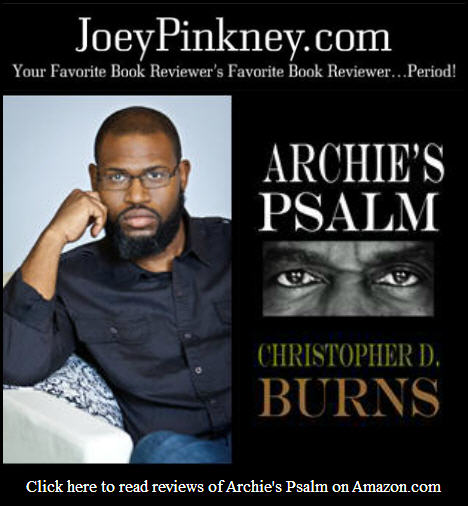 In a 1970s neighborhood, the tale of "Archie's Psalm" by Christopher D. Burns unfolds.
This book tells a story set in North Memphis, but this story holds true for Black people in many communities across the United States. It tells the story of a group of people devastated by generation after generation of men leaving families broken because of their absence. The landscape of this North Memphis neighborhood is taking a pervasive turn for the worst with festering problems like the presence of gangs that are looking younger and younger recruits to peddle drugs, lack of city planning, single-mothers working more than one job and leaving children to raise themselves and the disrespect of elders by children who aren't being taught any better. The community center steadily gives way to gang activity. Gun violence becomes a reality. Vietnam War veterans come home zombified from heroine use or in pine boxes for burial.
In all this, much of the book centers around the lives of two characters, Archie and his young protegé, Buck.
Christopher D. Burns gives "Archie's Psalm" a Southern drawl, which was the vernacular of North Memphis in the late 70s. Spelling, grammar and punctuation are not in standard English by design, because the story is being told by the characters in the book and not by some arbitrary narrator. Even so, it is written in a way that the average reader can easily interpret the dialect and know what is going on within the the story. The characters are "rough around the edges" but endearing. They are imperfect, which makes reading about them more like living with them.
As Archie tells Buck the stories of his life by sharing his experiences of growing up in a Memphis that overtly supported racism right up to the Civil Rights Movement, which changed race relations across America. Archie is the neighborhood griot, passing down the stories of the past to the young men who would be the future. He is also the father figure of the neighborhood who makes sure that the children do not get out of hand.
Simple and plain, there is not a pretty way to put racism. The childhood that Buck and his friends navigate is full of injustice, systematic poverty, blatant ridicule, self-hate and disrespect. Yet in the midst of their hard world, the boys have two things that keep their lives somewhat stable: the innocence of their youth and "Old Man Fishstick," which is what Archie is called by the boys.
Archie is eloquent and articulate, even when speaking in broken English. The wisdom he passes down to Buck is poignant, even though it doesn't have the polish of a formal education. At times, Archie's sharp wit made me laugh out loud. Other times, as Archie related some of the injustices that he was subjected to, my heartbeat quickened with outrage. Chris D. Burns created Archie's character in a way that grows on you. Archie quickly becomes a real person.
"Archie's Psalm" also shows the erosion of childhood naiveté for Buck. Like most children, Buck jumps to his own conclusions in the absence of being able to fully understand the world in which he lives.
For example, Buck doesn't have the life experiences, or the intellectual capacities, to understand why his mother won't allow herself to enter into a fulfilling, intimate relationship with Mr. Travis, even though it's obvious to Buck that there is something special between his mother and the man. Instead of understanding that his mother is dealing with demons that have nothing to do with him, Buck thinks he is the cause of the break down in his mother's new relationship. As an extension of that false realization, Buck thinks he needs to run away to give his mother room to start something new and refreshing.
When you read the book, you'll understand what the reality of the situation actually is and why Buck's mother is having a hard time with a new relationship.
Buck's mother is determined to make a way out of North Memphis by piecing together low-paying temp jobs. Buck sees his mother's struggles and understands her goals. Yet in the back of his mind, Buck feels like his neighborhood will take a huge downfall because of his absence. Buck is simply too young to conceptualize that North Memphis is crumbling – with or without him.
My being from Memphis, from a neighborhood just north of North Memphis known as Frayser, made reading this book like reliving my childhood. I knew the types of people in the world of this book. I knew some of the streets and some of the landmarks. I remember my childish optimism amid the urban blight. There is a flow and intellectualism in "Archie's Psalm" that makes it a great literary commentary with the city of Memphis as the backdrop. This book is equally entertaining and informative. The plot twists are subtle yet persistent. The issues are harsh and inescapable. The anecdotes are from a timeless wisdom.
There is a crescendo of anticipation that travels through "Archie's Psalm" that is perfectly constructed. Once I realized the real significance of Archie in Buck's life, I began to wonder if I wanted Buck to know. There are quite a few times Christopher D. Burns gets the characters in position to let this knowledge be known, only to deftly create a situation that whisks the opportunity away. Although their relationship stays the same, once you realize what makes it different your perspective is affected in a way that makes the connection between Buck and Archie grow richer and richer as the chapters progress.
There are other aspects of "Archie's Psalm" that are not covered at length in this book review that you may find compelling. There is the issue of child abuse. There is a house that the children say is haunted. There is the "blood brotherhood" that bonds Buck to his crew of close knit male friends, each of whom have distinct personalities. There are the hidden messages in the lyrics that the blues singer sings as he strums his guitar. All-in-all, "Archie's Psalm" is a time capsule that you will enjoy once you open it.
http://www.centercourtbasketball.com
http://www.facebook.com/chris.burns.714
http://www.twitter.com/ArchByCCB
[include file=current-advertisers.html]