JoeyPinkney.com Exclusive Interview
5 Minutes, 5 Questions With…
Hughes, author of The Griffin Cryer
(Talon Publishing)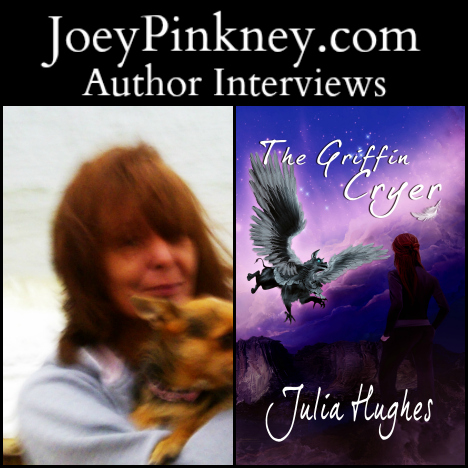 Teenager Frankie Shaunessy discovers she has an unusual talent when she accidentally summons a griffin and his rider from another dimension. The Rider is tall, blond and arrogant. However, Balkind is the sweetest most loveable griffin Frankie has ever met, and she's determined to help them return home, to their own world.
Along the way, Frankie learns friends aren't always friends, enemies aren't always enemies, and the boy of your dreams can be entirely different from the boy you've been dreaming of. Ultimately, Frankie's new found talent will resolve her own family's tragic circumstances in a unique and mysterious manner.
Joey Pinkney: Where did you get the inspiration to write "The Griffin Cryer"?
Hughes: My home village is surrounded by lakes and rivers. One evening while walking my dogs over fields and hills, I glanced back at the village. A mist rose from the lakes, and as I watched, it consumed every sign of civilisation. It was a beautiful sight, yet eerie. I thought: Anything could fly out of that mist, even a dragon. Then I thought: Not a dragon – a griffin! Continue reading 5 Minutes, 5 Questions With… Julia Hughes, author of The Griffin Cryer →