JoeyPinkney.com Exclusive Interview
5 Minutes, 5 Questions With…
Hughes, author of The Griffin Cryer
(Talon Publishing)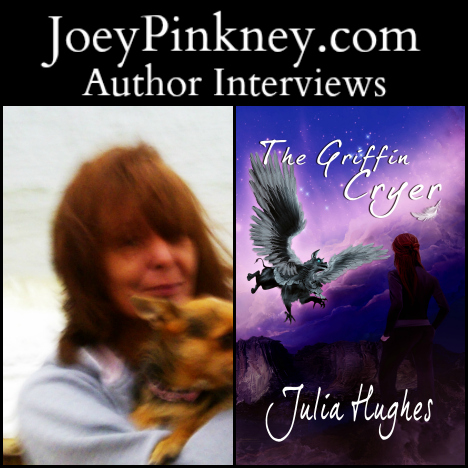 Teenager Frankie Shaunessy discovers she has an unusual talent when she accidentally summons a griffin and his rider from another dimension. The Rider is tall, blond and arrogant. However, Balkind is the sweetest most loveable griffin Frankie has ever met, and she's determined to help them return home, to their own world.
Along the way, Frankie learns friends aren't always friends, enemies aren't always enemies, and the boy of your dreams can be entirely different from the boy you've been dreaming of. Ultimately, Frankie's new found talent will resolve her own family's tragic circumstances in a unique and mysterious manner.
Joey Pinkney: Where did you get the inspiration to write "The Griffin Cryer"?
Hughes: My home village is surrounded by lakes and rivers. One evening while walking my dogs over fields and hills, I glanced back at the village. A mist rose from the lakes, and as I watched, it consumed every sign of civilisation. It was a beautiful sight, yet eerie. I thought: Anything could fly out of that mist, even a dragon. Then I thought: Not a dragon – a griffin!
In my mind, griffins have the traits of dogs and horses, with the added bonus of wings. It would take someone very special to ride a griffin, and I imagined that special someone would be full of pride, and even a little arrogant.
JP: What sets "The Griffin Cryer" apart from other books in the same genre?
JH: Although "The Griffin Cryer" features a mythological beast and introduces other worlds. This is a fantasy readers can believe in. As I wrote, I realised all my characters were captive in someway.
Frankie is an ordinary girl, struggling to come to terms with her brother's near fatal accident that's left him comatose, while trying to escape her mother's over protectiveness. The Rider is trapped in this world, dependent on his own resilience and Frankie, who he's already dismissed as "Just a little girl."
While Frankie's brother Michael's body remains in this world, his spirit, the quality that defines him, is held captive in the spiritual world. And so Frankie, her brother and the Rider all have to escape their own prisons: Literal, emotional, and physical.
"The Griffin Cryer" is first and foremost an adventure story with an underlying theme of breaking chains and walls to set yourself and others free.
JP: As an author, what are the keys to your success that led to "The Griffin Cryer" getting out to the public?
JH: I believe any success "The Griffin Cryer" has with the reading public will be thanks to hard working book bloggers and readers who are kind enough to recommend this story to their friends.
I'm constantly amazed by the reaction and reviews "The Griffin Cryer" has received. I'm very, very appreciative of other people who generously devote their spare time to helping spread the word on stories that are worth reading.
I also appreciate that I have to earn readers' trust before they invest their precious reading time in me. There are a number of short stories, as well as a full length adventure available to read for free via Smashwords. Just type in my name or Talon Publishing, and your readers should be able to download and or read online – and hopefully enjoy!
JP: As an author, what is your writing process? How long did it take you to start and finish "The Griffin Cryer"?
JH: My writing process is a mixture of organic and outlined plot. I've read books which are great – fantastic – that sweep me along right up until the last third or so of the story. Then often it seems the author either lost interest or didn't know how to end the story. Grrrrr!
Once the plot is sketched out and the first three chapters are written, I revisit and enlarge on my end chapters' notes. They need to be even more engrossing than the first, because my reader has invested their time and hopefully emotion in the characters. The story must be resolved in a manner that leaves my reader sighing happily, yet wanting to know more about what happens next. If I can achieve that, I know my story and the characters in that story will stay in my readers' imaginations.
Today's readers prefer reading from a third person limited point of view, as I do myself, but writing in the first person POV in the first draft helps me think deeper into that character's role.
"The Griffin Cryer"was one of those books authors dream of – a whole story presented itself. All I had to do was scribble it down. Sometimes words flow; sometimes they have to be coaxed. "A Ripple in Time" took almost two years to write, but "The Griffin Cryer" around six weeks. I couldn't keep myself away from the keyboard.
JP: What's next for Julia Hughes?
JH: I'm working on "The Griffin's Boy" as a companion to "The Griffin Cryer". Many readers wanted to know more about the mysterious rider, this is his story.
Together with Talon Publishing, I'm also working on re-editing my Celtic Cousins' Adventures, which were originally self-published. As previously mentioned, "A Raucous Time", Book one in The Celtic Cousins' Adventures, is currently free to download at Smashwords. Book two "A Ripple in Time" will be published on October 10 of this year.
http://www.celticcousins.co.uk
http://www.talonpublishing.com
http://facebook.com/pages/Julia-Hughes/1390226334527606
http://www.pinterest.com/juliahughescouk/boards/
http://www.goodreads.com/author/show/5137727.Julia_Hughes
"Thank you for inviting me to your site. Having taken a look around at other authors' interviews, I'm feeling very privileged. 🙂 Best wishes." ~ Julia Hughes
[include file=current-advertisers.html]