JoeyPinkney.com Exclusive Interview
5 Minutes, 5 Questions With…
Parker J. Cole, author of The Other Man: The Sins of the Flesh, Book 2
(eLectio Publishing)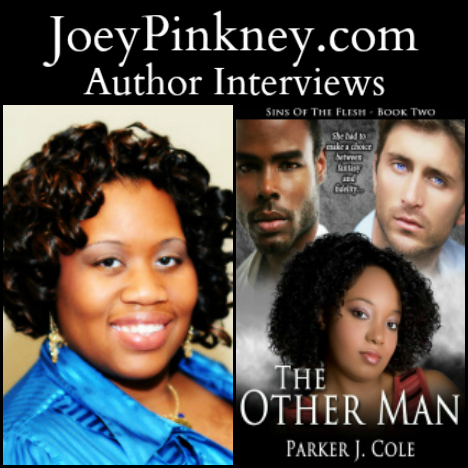 Leah Westwood loves her husband Jacob with all her heart, even as the smoldering glances of her ex-flame Vincent Miller continue to affect her. What she once shared with Vincent threatens to rip apart the bonds she is trying to build with her husband.
Jacob's heart belongs to Leah, but his body refuses to accept that. Rachel is the one who has been his mainstay at the most difficult times in his life. How could he leave her alone?
Vincent wants Leah back and all he has to do is watch and wait as Jacob and Leah's relationship unravels.
Ultimately, Leah must make a choice . . . between fantasy and fidelity.
Joey Pinkney: Where did you get the inspiration to write The Other Man: The Sins of the Flesh, Book 2?
Parker J. Cole: I often personify the voices in my head as characters looking for an escape route. Therefore, I was sitting down one day, and Leah and Jacob started talking to me. I began on their story when her sister Celeste and Solomon pushed them out the way and demanded I tell their story first. Continue reading 5 Minutes, 5 Questions With… Parker J Cole, author of The Other Man: The Sins of the Flesh, Book 2 →