JoeyPinkney.com Exclusive Interview
5 Minutes, 5 Questions With…
Parker J. Cole, author of The Other Man: The Sins of the Flesh, Book 2
(eLectio Publishing)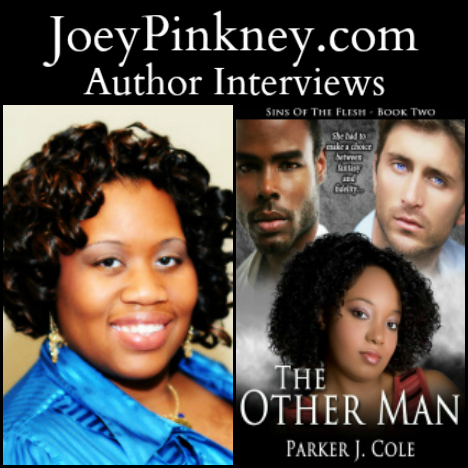 Leah Westwood loves her husband Jacob with all her heart, even as the smoldering glances of her ex-flame Vincent Miller continue to affect her. What she once shared with Vincent threatens to rip apart the bonds she is trying to build with her husband.
Jacob's heart belongs to Leah, but his body refuses to accept that. Rachel is the one who has been his mainstay at the most difficult times in his life. How could he leave her alone?
Vincent wants Leah back and all he has to do is watch and wait as Jacob and Leah's relationship unravels.
Ultimately, Leah must make a choice . . . between fantasy and fidelity.
Joey Pinkney: Where did you get the inspiration to write The Other Man: The Sins of the Flesh, Book 2?
Parker J. Cole: I often personify the voices in my head as characters looking for an escape route. Therefore, I was sitting down one day, and Leah and Jacob started talking to me. I began on their story when her sister Celeste and Solomon pushed them out the way and demanded I tell their story first.
As any obedient writer, I did what my characters told me to do. The first book of the series entitled Many Strange Women, tells their story, and then I continued with The Other Man.
JP: What sets The Other Man apart from other books in the same genre?
PJC: Most inspirational fiction is ooey and gooey. Happy endings, a little bit of a trial and then, bam, it's over and done with. I want to take real issues that people deal with and explore them in my stories. Plus, I'm not afraid to talk certain things others will shy from.
JP: As an author, what are the keys to your success that lead to The Other Man getting out to the public?
PJC: I think the key to my success is that I don't try to push myself aggressively on people. Sure, I market diligently but really, readers have thousands of books every day to choose from.
My radio shows also helps as well. It's the platform I've used to interview and showcase other, interesting authors and their works. I have a wide range of interests that are reflected via my shows.
I'm all about connecting with people, so I love talking to my readers. They can always find me on Facebook and other social media. I think the relationship between writer and reader is just as important as getting your book out there in front of fans and new potential readers.
JP: As an author, what is your writing process? How long did it take you to start and finish The Other Man?
PJC: My writing process has evolved since I began. My first book took ten years to see the light. After that, I realized successful authors are disciplined in what they do. I outline roughly 2 to 3 chapters with the bare bones of what I want to happen. Then, I write. The best thing about my writing process is my dog sits on my feet or right next to me. She's my furry muse.
For The Other Man, it took about nine months to complete.
JP: What's next for Parker J. Cole?
PJC: I'm working on a historical romance saga as well as the third book of the Sins of the Flesh series. After those, I'm going to completely throw a curveball and write a science fiction story. Being a sci-fi lover, I want to see if I can be as successful with the genre as what I currently write.
http://twitter.com/parkerjcole
http://www.facebook.com/parker.j.cole4125
http://plus.google.com/+ParkerJColeAuthor
http://thewritestuffradio.wordpress.com/
"If you want to catch my shows, I broadcast on Tuesdays from 7:00 pm to 8:30 pm Eastern Time and then on Saturdays from 2:00 to 3:00 pm Eastern time." ~ Parker J. Cole
[include file=current-advertisers.html]