JoeyPinkney.com Exclusive Interview
5 Minutes, 5 Questions With…
Kim Golden, author of Maybe Baby
(Echo Books – Stockholm)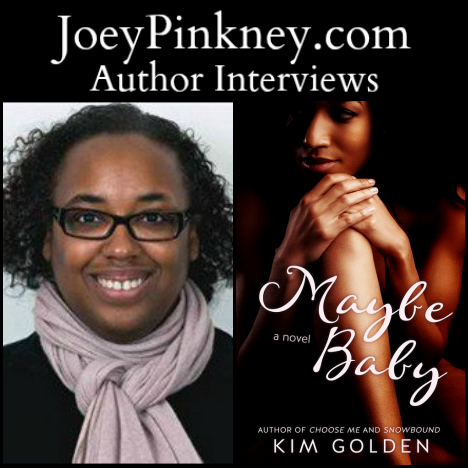 Imagine finding out you could never have a baby with the man you love…
Expat American Laney Halliwell finds out the hard way when Niklas tells her he had a vasectomy before they met and isn't interested in reversing it. Why should he? They've got his kids from his first marriage and an enviable life in Stockholm.
What if you fell in love in the most unexpected way…?
But Laney wants more. So when a friend suggests she look into an alternative sperm bank in Copenhagen to find a potential father for her baby, things don't go exactly as planned. Especially when Laney meets Mads and finds herself falling in love.
Joey Pinkney: Where did you get the inspiration to write Maybe Baby?
Kim Golden: It started with a conversation I had with a friend who was considering going to a fertility clinic and using a sperm donor. We joked about how it would be amusing if choosing a sperm donor was like going to a speed dating session.
Then I decided to play with the idea of what if a woman met her sperm donor at a clinic that held mingles where a woman could get to know the man who would become the biological father of her future children? What if meeting him made her question the life she's chosen? And that's how Maybe Baby came to be.
JP: What sets Maybe Baby apart from other books in the same genre?
KG: Maybe Baby's Scandinavian setting sets it apart from a lot of the IR/MC women's fiction on the market. Both Stockholm and Copenhagen play important roles in the story, and it's rare that we read stories about black women which are set there. I wanted to tell the story of an expat African American woman without making race the main factor of my story.
Also, the premise of a woman falling in love with her sperm donor is not a story you read every day. Love triangle and infidelity storylines are pretty common. But this story is one in which there is no clear cut "villain." All three of the characters who make up the triangle make mistakes, are selfish at times but ultimately want to be loved. I think this is one of the aspects that helps Maybe Baby stand out.
JP: As an author, what are the keys to your success that lead to Maybe Baby getting out to the public?
KG: I was really lucky in that quite a few book bloggers fell in love with Maybe Baby and its story. They helped me spread the word about my novel. Other writers like Nia Forrester, Tia Kelly, S.G. Redling, Xio Axelrod and Emily Breunig also helped with getting the word out about Maybe Baby.
Also, I used Pinterest, Facebook and Twitter to share my teasers, excerpts and vision board. This really helped generate more interest in the novel.
And then being active on Goodreads really helped as well. I was already a member of a group for fans of Interracial and Multicultural Romance novels, and their interest in the novel helped me continue spreading the word and reaching new readers.
JP: As an author, what is your writing process? How long did it take you to start and finish Maybe Baby?
KG: Once I have an idea, I usually start by trying to visualise my characters and setting, so I make a vision board on Pinterest. Sometimes I write notes to myself in the comments to remind me of which scenes the images inspired. When I feel I've got enough images, I start writing my outline.
Sometimes this goes very quickly. Other times, it takes forever to finish it. But I always have an outline, otherwise I don't finish anything I start.
I wrote Maybe Baby as a part of NaNoWriMo 2012. I wrote the outline in October 2012, wrote the first draft in November 2012 and then spent December 2012-February 2013 revising it. I worked with an editor from April until July, and the book was finished by August 2013.
JP: What's next for Kim Golden?
KG: I just finished NaNoWriMo 2014. The result – a first draft of Maybe Forever, the sequel to Maybe Baby – is my next big project. I'll be revising it and working with an editor over the next few months. I'll also be working on a couple of novellas, so I think 2015 is going to be a very busy year.
https://plus.google.com/+KimGoldenMalmgrenBooks
https://se.linkedin.com/in/kimberlygoldenmalmgren
http://www.pinterest.com/kimigm/
http://www.goodreads.com/author/show/5821481.Kim_Golden
http://maybebabythenovel.tumblr.com/
"I didn't expect so many people to fall in love with Maybe Baby and its characters. Everyday I get messages from people who've read the book and tell me how the story spoke to them and want more.
I 'm so happy for the enthusiasm and encouragement my readers have shown me. Their love of my stories is what keeps me writing on the days when it just feels too difficult or complicated." ~ Kim Golden
[include file=current-advertisers.html]