JoeyPinkney.com Exclusive Interview
5 Minutes, 5 Questions With…
Umar Quadeer, author of Enemy Bloodline
(Wahida Clark Presents)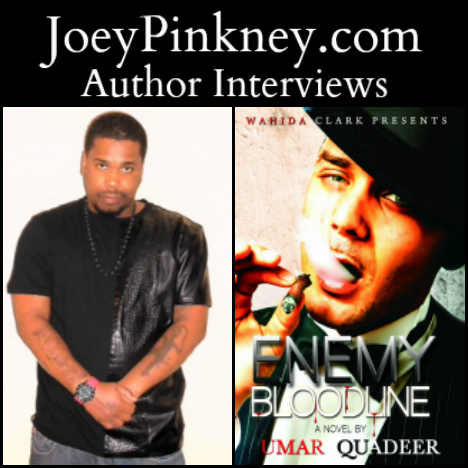 Son of a black gangster and an Italian mother with ties to a high profile mobster, the deadly mixture allows Spaz to become the most ruthless gangster in the City of Brotherly Love. What starts off as a plot to move his mother out of the lethal streets of North Philly turns into a multimillion-dollar drug enterprise.
With his mafia drug supplier, Sticky Scilionni in his right ear, and the leader of the Black Boss Family, Kareem, in his left ear, who can Spaz trust once he becomes a threat to the very street mentors that have trained him? His life takes on a ferocious transformation as he rises in power and becomes the gatekeeper of the hood between warring families.
Joey Pinkney: Where did you get the inspiration to write "Enemy Bloodline"?
Umar Quadeer: I came up with Enemy Bloodline sitting in prison bored. I wanted a TV in my cell and couldn't have one, so I went into my mind and started watching TV! My inspirations came from me wanting a GT Bentley. I imagined me in it. I imagined what I was wearing. I saw myself riding around my city in this luxurious automobile. Continue reading 5 Minutes, 5 Questions With… Umar Quadeer, author of Enemy Bloodline →