JoeyPinkney.com Exclusive Interview
5 Minutes, 5 Questions With…
Umar Quadeer, author of Enemy Bloodline
(Wahida Clark Presents)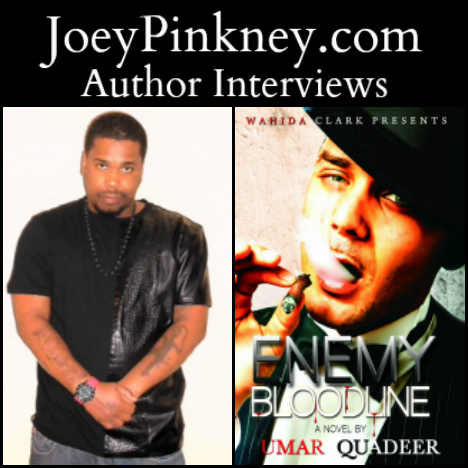 Son of a black gangster and an Italian mother with ties to a high profile mobster, the deadly mixture allows Spaz to become the most ruthless gangster in the City of Brotherly Love. What starts off as a plot to move his mother out of the lethal streets of North Philly turns into a multimillion-dollar drug enterprise.
With his mafia drug supplier, Sticky Scilionni in his right ear, and the leader of the Black Boss Family, Kareem, in his left ear, who can Spaz trust once he becomes a threat to the very street mentors that have trained him? His life takes on a ferocious transformation as he rises in power and becomes the gatekeeper of the hood between warring families.
Joey Pinkney: Where did you get the inspiration to write "Enemy Bloodline"?
Umar Quadeer: I came up with Enemy Bloodline sitting in prison bored. I wanted a TV in my cell and couldn't have one, so I went into my mind and started watching TV! My inspirations came from me wanting a GT Bentley. I imagined me in it. I imagined what I was wearing. I saw myself riding around my city in this luxurious automobile.
Of course I had to have security, so that's when I created the Black Boss Family. But when I thought about where the money came from to buy this six-figure car, the kingpin concept was developed. Soon afterwards, I started writing these thoughts down, and it turned into Enemy Bloodline.
JP: What sets "Enemy Bloodline" apart from other books in the same genre?
UQ: I'm a new author in the game. I haven't been keeping up on any other authors out there. I have been to busy building my craft. But I will say I'm coming in the game with ten books and counting.
I'm from Philly. I'm a producer and a hip hop artist, so you going to be hearing a lot from me. From the feed back I've been getting, it's safe to say Enemy Bloodline is well paced, interesting characters and action packed from the beginning to the end.
JP: As an author, what are the keys to your success that led to "Enemy Bloodline" getting out to the public?
UQ: The key to my success is the Law of Attraction. We attract the thoughts that enters our mind. I been dreaming about self-publishing for so long that when I finally did it, it opened up so many doors.
I sent Enemy Bloodline to Wahida Clark, and two weeks later I called asking about book manufacturing prices. That led to a brief phone conversation with Mrs. Clark. To print my book, she had to go get it out of a huge pile of manuscripts. Once she got it in her hands, she took it on the plane with her. The rest is history.
JP: As an author, what is your writing process? How long did it take you to start and finish "Enemy Bloodline"?
UQ: It took me a month to write Enemy Bloodline. A big-time drug dealer from Newark, New Jersey, named Wayne Akbar Prey AKA Big Ock advised me to send 60 pages to Terri Woods or Vickie Stringer.
Terri Woods requested the whole manuscript, so I sent the book from jail to my aunt to type. In the process, my aunt misplaced my manuscript. Pissed off and upset, I began writing new books. Once I was released, I re-wrote Enemy Bloodline from scratch. That took a year, but the rest of my books I would write ten pages a day. I ended up with 300 pages by the end of the month.
JP: What's next for Umar Quadeer?
UQ: Whats next for me after I gain notoriety in the book industry is start to my own publishing company to give other up-and-coming authors a chance. From there, I'm going straight to film industry to plant my flag. I start filming and directing school this year, so I'm exited about that.
http://facebook.com/umar.quadeer1
http://twitter.com/umar_quadeer
http://instagram.com/umar_quadeer_
"Thanks for the interview. To all of the readers out there, go check out Enemy Bloodline on Wahida Clark Presents." ~ Umar Quadeer
[include file=current-advertisers.html]