JoeyPinkney.com Exclusive Interview
5 Minutes, 5 Questions With…
Rumont TeKay, author of Venom In My Veinz
(Wahida Clark Presents)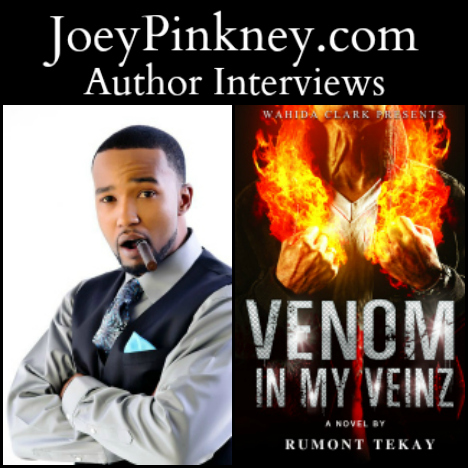 "Bonnie and Clyde times ten" would best describe Bromise and Chasidy in this explosive, true-to-life tale. They share a twisted love story that hinges on murder, mystery and calculated brilliance! While in the midst of completing each phase of their ingenious plot with precision, they fight against their rivals, love for each other, and their demons within!
Joey Pinkney: Where did you get the inspiration to write Venom In My Veinz ?
Rumont TeKay: I was inspired much like Wahida Clark. While doing time, a very talented author caught my attention with his novels. He wasn't the first to do it, but his books were the first to resonate with me. His name is Victor L. Martin. After I read his first book, the flame within me was lit.
I quickly dove into his second book, finished it and reached out to him with praises and works of my own. He reached back with support and words of encouragement. That was all the motivation I needed. I immediately put my pen to work! Thereafter, we remained in contact and years later, we are now label mates. God is good! Big shout out to, Victor!
JP: What sets Venom In My Veinz apart from other books in the same genre?
RT: I believe writers write from different places. And when I say places, I don't necessarily mean physically. Some writers have an imagination that can take them anywhere mentally. The great writers are able to take their readers along with them. That's a special gift.
Then you have writers, like myself, that reach deep within the recesses of their soul before reluctantly picking up the pen. I tell stories that are deeply rooted within me. My eyes have recorded every second of each circumstance that I've found myself in due to the choices I've made in my life.
After readers becomes engulfed within the pages of Venom In My Veinz, they will quickly realize that I've either experienced the scene first hand, or I was a front row witness to it. An avid reader can distinguish fake from realism, especially in this genre, regardless if it's labeled fiction or non-fiction. The pages in Venom In My Veinz hollers not only because I'm the messenger, but because I was once a major player in the lifestyle that I write so vividly about.
JP: As an author, what are the keys to your success that lead to Venom In My Veinz getting out to the public?
RT: Reaching out to Wahida Clark is what started the process. After the production phase, I found that interaction with my readers is key. Word-of-mouth is still the best advertisement.
JP: As an author, what is your writing process? How long did it take you to start and finish Venom In My Veinz ?
RT: It's hard to say what my writing process is. I originally wrote Venom In My Veinz over a decade ago. Then earlier last year, I pulled it out of the vault, revamped it, and submitted it to Wahida Clark Presents Publishing. I'd say anywhere between 30-60 days is sufficient enough time to execute an explosive novel.
JP: What's next for Rumont TeKay?
RT: There's a sequel to Venom In My Veinz and also other projects on the horizon that I'm excited about. Stay tuned!
http://twitter.com/RumontTeKay
http://www.facebook.com/rumontTK
 http://www.linkedin.com/pub/rumont-tekay/48/a73/577
[include file=current-advertisers.html]