JoeyPinkney.com Exclusive Interview
5 Minutes, 5 Questions With…
Randall Barnes, author of The Diary Of Aaliyah Anderson
(DC Bookdiva Publications)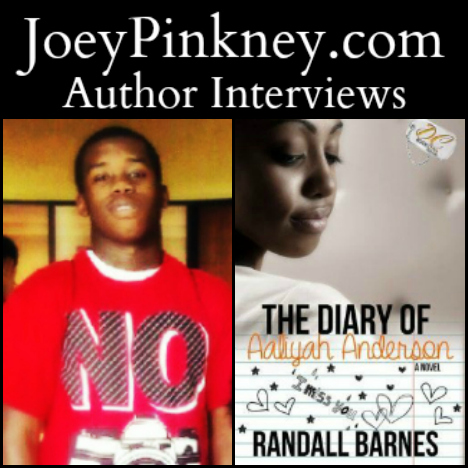 The Diary Of Aaliyah Anderson is about an intelligent, ambitious thirteen year old young woman that writes diary entries chronicling her life living in the fictional city of Willowsfield, Georgia, statistically the #1 most dangerous city in America.
Joey Pinkney: Where did you get the inspiration to write "The Diary Of Aaliyah Anderson"?
Randall Barnes: Originally, I got the inspiration to write a book after seeing the void in aesthetically true young adult fiction books in the market. If it wasn't a relationship book about a girl falling in love with a player or high school "jock", it was about mythological worlds, warlock, wizards, dragons and vampires. How can that entertain a brother that's obsessed with getting money, garnering the attention of pretty females and the stats that LeBron James posted up in his last game?
More importantly, how can a positive, respectable young woman in an over-sexualized society keep the inspiration to embrace her individuality with novels that don't relate to who she is? As a generation, we're more diverse than what the current literature in the Young Adult realm shows, and I'm looking to tell our true stories.
JP: What sets "The Diary Of Aaliyah Anderson" apart from other books in the same genre?
RB: The Diary Of Aaliyah Anderson is written from the voice of an intelligent, talented seventeen year old that's experienced and seen everything that was described in the book. From dealing with haters and clashing with lackadaisical teachers in a corrupt school system to toxic friendships to overcoming an identity crisis and teenage relationship woes, I acquired a certain sector of knowledge from being in these situations.
Basically, I'm speaking from the voice of Aaliyah Anderson as she's gets into these situations. Also, The Diary Of Aaliyah Anderson is overtly positive and devoid of curse words and it's still interesting and entertaining. My motto is that I can still give your favorite reality show a run for its money with my content!
JP: As an author, what are the keys to your success that led to "The Diary Of Aaliyah Anderson" getting out to the public?
RB: The key to my success is hustling my work! I realize that I can't just sit up and expect my debut novel to sell itself. I have to get out and meet people and show them who I am and what I have to offer.
I've been pushing The Diary Of Aaliyah Anderson ever since I finished it. For example, I took my own money that I spent to buy snacks to sell to the attendees at my Mom's summer camp. I printed out dozens of excerpts of The Diary Of Aaliyah Anderson and gave a different one to the various young women that I serviced every day. I even let the guys in the group I was looking over read the action-packed part of the stories.
I also posted the story on Wattpad.com, where it went on to get 42,000 reads (and counting) and numerous positive reviews. I understand that writing an epic book is only half the battle, and I have to push this book for it to reach it's full potential.
JP: As an author, what is your writing process? How long did it take you to start and finish "The Diary Of Aaliyah Anderson"?
RB: The first thing I do is write an outline where I rundown the chapters from start to finish and add all the events that pop in my head. Then, I write in the order I already set in the timeline. It helps me to keep a good, realistic flow and get the reader engulfed in the story.
It took me about six months to write The Diary Of Aaliyah Anderson. I found the time to write it during my idle time at school and home. It took a lot of sacrificing for me to finally get done. After finishing the novel, since I was writing from the perspective of a teenage girl, I'd let my female friends read it to make sure I was capturing the struggles they face daily. Their positive reviews and stories that they told me about their life and experiences helped me in telling a realistic narrative that young women around the nation can identify with.
JP: What's next for Randall Barnes?
RB: Oh man, I have big goals and huge dreams for myself and my career. I'm planning to launch a movement with The Diary Of Aaliyah Anderson. That means creating t-shirts, book bags, notebooks and anything else that will get my target audience captivated with the brand. The second part to the novel is slated to come out in the spring of 2015. And a T.V. show/movie series is coming sometime in the future!
http://urbanintellectuals.com/author/randall-barnes-501/
http://courtingher.com/author/randall/
http://facebook.com/randall.barnes.501
http://twitter.com/AuthorRandallB
http://www.wattpad.com/user/RandallBarnes
[include file=current-advertisers.html]