JoeyPinkney.com Exclusive Interview
5 Minutes, 5 Questions With…
Charles L. Mahoney, author of Story of The Ghost
(CM9 Digital)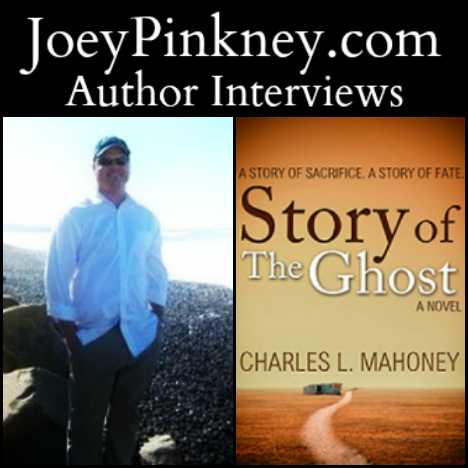 Nicknamed "The Ghost" by an overly ambitious newspaper reporter, a sixteen year old boy learns what it means to sacrifice when he plays the game of eight-man football alone, solo.
Joey Pinkney: Where did you get the inspiration to write "Story of The Ghost"?
Charles L. Mahoney: I was a football player at the University of Arizona, and one day I had a person come up to me and call me "The Ghost". I had never heard that name before nor did I know what the person was talking about. Years later, I wondered what it would be like if the hero of my story was called that name by a reporter, achieving a lot of local fame in the process.
Then I wondered what would happen if there were repercussions to that fame and how my hero might deal with it all. What if things went south? What choices would he make? Would he continue to follow his wild dream of playing football or would he make another choice?
JP: What sets "Story of The Ghost" apart from other books in the same genre?
CM: Story of The Ghost has multiple subplots that come together in the end, so patience is a virtue when you take it on. But all things being equal, there is a reward waiting. In the Epilogue – which happens to be hidden in the digital version TOC (readers must flip to it from the last chapter page) – there is a direct reference to a real life hero who died. That said, it's highly symbolic in nature and rather profound, so it's up to the reader to figure out why Gavin chooses the number he does for his playing jersey (in the book he only has a white shirt and duct tape to make his number).
Story of The Ghost is very different from other literary works because underneath the story line I wanted to use my hero as a symbol for a real hero who died in Afghanistan. I wanted to say that both are 'special'- my fictional hero and the real one who is no longer with us. If readers know football, they might be able to make the connection. If they can make the connection, they might just feel that reward I have waiting for them. Hopefully that is the case.
JP: As an author, what are the keys to your success that led to "Story of The Ghost" getting out to the public?
CM: I rely on hard work and the process of re-writing. Once I can get to the end of a novel like Story of The Ghost, I start over. And it is with that effort and new knowledge about the characters and storyline that I can write better passages. The more passes at prose, the better!
So, I can only guaranty that I work hard and create good works that people will want to read should they stumble upon them. And then, only then, might the masses catch on. I do understand they're all reading what other people, news/media, ect, talk about every day. But if someone asks me to sign a book or has something to say about it one way of the other, I am truly grateful to them- that is a big success to me!
JP: As an author, what is your writing process? How long did it take you to start and finish "Story of The Ghost"?
CM: It took me 2.5 years to write my first novel, Story of The Ghost; and during that time, I learned a lot of things to apply to future works. For instance, I now use a mind mapping software to link my characters together and underline their motivations – what they want. Even if it's a glass of water, I need to understand what a character is after.
From there, when I actually begin to write the words, I need to feel that something good is in the mix – usually that happens after about ten thousand words or so. If that doesn't happen, time to move on! For my latest novel (The Gray Hound: A Thriller due out on 12/15/14 for Kindle), I was able to write it in about five months because of the process I learned from my first one – and ultimately I think it is the reward for writing Story of The Ghost.
I say that with sincerity because I originally thought my first novel would be well read in literary circles, that critics would see the effort, the originality. That they might see what is underneath, that symbolism I talked about. Rather than have all that initial success, though, I am just grateful for the reward to write more efficiently, and hopefully improve as an author.
JP: What's next for Charles L Mahoney?
CM: The Gray Hound is a thriller that will be out on 12/15/14. Pre-orders are at 99 cents and will be active around early November from my website. With this novel, there is that originality I feel must be put into my work. In true thriller fashion, however, it is a page-to-page mover and shaker. If not page-to-page, every other one. You have the FBI, the Mob, an investigative reporter and a love story that I wasn't so sure at first I could pull off. I think readers might really take to The Gray Hound, and maybe then they'll discover Story of The Ghost.
"Thanks for the interview! Much appreciated!" ~ Charles L. Mahoney
[include file=current-advertisers.html]