JoeyPinkney.com Exclusive Interview
5 Minutes, 5 Questions With…
Kathrin Lake, author of Writing with Cold Feet
(Buddha Press)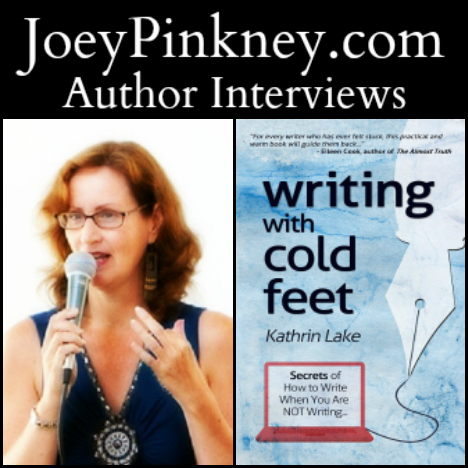 Writing with Cold Feet is not only for blocked writers or reluctant writers, but for all writers. Even bestselling authors have praised this book as a helpful guide that writers can use to find their way back to their muse.
All writers or want-to-be writers will easily relate and be inspired by the stories within. Must read sections are:
Planned Revelations
Feedback and the Monster
Wrecking it
Money and Writing
The Evil Puppetmaster..and many more original ideas!
Joey Pinkney: Where did you get the inspiration to write "Writing with Cold Feet"?
Kathrin Lake: Writing with Cold Feet was born from a long-running course that began when I was asked to teach a class called "Fear of Writing." I had no idea what I was getting into and what a life-long journey it would become to help writers not only overcome their writing blocks, but tear down the myths about writers and writing, and create an easy path for writers to discover their own unique writing process.
JP: What sets "Writing with Cold Feet" apart from other books in the same genre?
KL: My readers say: "I loved this book. I've read many books about the practice of writing, but Writing with Cold Feet offers more practical advice than is commonly supplied. Kathrin really seems to understand the kinds of demons writers face, and how to deal with them… She understands how crippling the deafening silence of our own internal audience can be, and she knows how to help push through it. I would recommend anyone interested in the practice of any creative act read Writing with Cold Feet to get a better understanding of what is going on and how to deal with it." – Michael Caulder
"As a new author writing my first book, I am inspired by Kathrin's Writing with Cold Feet. The book provides many teachable moments that are very helpful in the writing process. There were countless Aha's for me that helped to build my confidence and give me the support to finish book number one. Kathrin shares buckets of secrets and tips that would be beneficial to all writers. I have learned so much and very grateful to Kathrin for the wisdom she shares." -Edith Martin
JP: As an author, what are the keys to your success that led to "Writing with Cold Feet" getting out to the public?
KL: First, there has to be a commitment to being an author and really feeling you have an important and helpful message to share with the world. Second, using all the tools in the new world of publishing. Meeting and working with like-minded individuals is also important.
JP: As an author, what is your writing process? How long did it take you to start and finish "Writing with Cold Feet"?
KL: For non-fiction books for me, there is first the concept and shaping the organizing principle. Once I have that, it often takes two to three months for the first draft.
Writing with Cold Feet was two months in Mexico. After that, an edit and then it goes to the beta readers and endorsers. Then another edit and proofing.
JP: What's next for Kathrin Lake?
KL: I am finishing a screenplay that I have high hopes for and has already had very good feedback. I am writing a book on all the writing exercises and games I have created in the past twenty years. There are games for writing groups, classes and also individual writers.
I am also co-authoring a book on changing your career, and writing another book on the ways to think about money so it makes you happier (not more miserable).
http://facebook.com/kathrin.lake.3
http://twitter.com/kathrin_lake
http://www.goodreads.com/author/show/3092865
http://www.linkedin.com/profile/view?id=5408185
When Kathrin Lake was eight, she made up stories, cast the other kids in parts, raided her mother's closet and then started rehearsals immediately. Much later, she studied theatre and film at Simon Fraser University in Vancouver, B.C. Although she developed a passion for non-fiction by writing for the campus paper and other external publications, it was being in Theatre that reignited her storytelling days as a child.
Kathrin is an award-winning playwright, writing coach, professional speaker and author of The A to Zen of Writing series, Writing with Cold Feet and From Survival to Thrival. Kathrin has helped many students, entrepreneurs and experts write their books or keynote speeches using her Power of Story system. Kathrin lives in Vancouver but winters in Mexico where she gives writing retreats. More info at www.kathrinlake.com or www.vancouverschoolofwriting.com.
[include file=current-advertisers.html]