JoeyPinkney.com Exclusive Interview
5 Minutes, 5 Questions With…
Kathrin Lake, author of Writing with Cold Feet
(Buddha Press)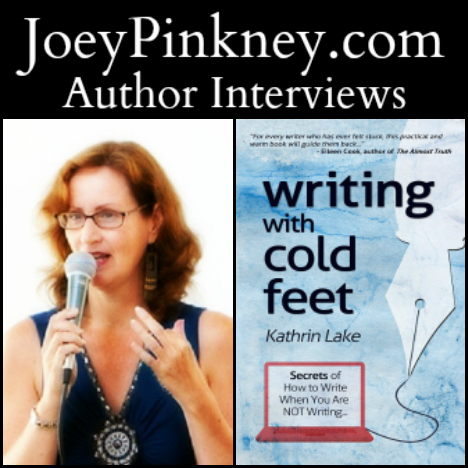 Writing with Cold Feet is not only for blocked writers or reluctant writers, but for all writers. Even bestselling authors have praised this book as a helpful guide that writers can use to find their way back to their muse.
All writers or want-to-be writers will easily relate and be inspired by the stories within. Must read sections are:
Planned Revelations
Feedback and the Monster
Wrecking it
Money and Writing
The Evil Puppetmaster..and many more original ideas!
Joey Pinkney: Where did you get the inspiration to write "Writing with Cold Feet"?
Kathrin Lake: Writing with Cold Feet was born from a long-running course that began when I was asked to teach a class called "Fear of Writing." I had no idea what I was getting into and what a life-long journey it would become to help writers not only overcome their writing blocks, but tear down the myths about writers and writing, and create an easy path for writers to discover their own unique writing process. Continue reading 5 Minutes, 5 Questions With… Kathrin Lake, author of Writing with Cold Feet →