JoeyPinkney.com Exclusive Interview
5 Minutes, 5 Questions With…
Dr. Taffy Wagner, author of Obamacare Made Easy
(Money Talk Matters, LLC)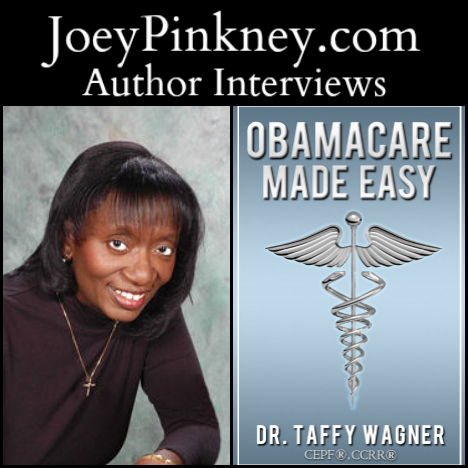 "Obamacare Made Easy" removes the politics and provides the facts about Obamacare – what it is, what the ten essential health benefits are, what happens if you do not participate, who is exempt without penalty as well as how it affects those who are self-employed, young invincibles, those on Medicare, Medicaid and much more.
This book provides the basics to help people make an informed decision when it comes to their health and household budget.
Joey Pinkney: Where did you get the inspiration to write "Obamacare Made Easy"?
Dr. Taffy Wagner: I'm a Personal Finances Educator and wanted to make sure I knew what Obamacare was about and how it would impact my family. Once I did the research and began conducting online and offline seminars, I realized there was still a lot of confusion.
Friends who had attended my seminars kept saying, "You should write a book because people will understand your explanation."
I kept hearing, "Why didn't they tell us this before the election, you actually give me hope in having a solution and even that is not what they told us?"
JP: What sets "Obamacare Made Easy" apart from other books in the same genre?
TW: "Obamacare Made Easy" is in laymen's terms from a consumer's perspective and has nothing to do with politics. There's no sugar-coating in this book. It doesn't tell you not to go to the healthcare exchange.
Instead, it educates the reader about Obamacare, the plans and what to do when going to the healthcare exchange. It also provides a solution if people find they can't afford the "Affordable Care Act".
JP: As an author, what are the keys to your success that led to "Obamacare Made Easy" getting out to the public?
TW: Keys to my success are networking, conducting local seminars, conducting teleseminars so that people can attend from the comfort of their own home or even while they are at work.
Also writing press releases and submitting them to local and national distribution services. Being interviewed on various radio shows, both terrestrial and platforms such as BlogTalkRadio.
JP: As an author, what is your writing process? How long did it take you to start and finish "Obamacare Made Easy"?
TW: I write strictly under inspiration. Once I started writing "Obamacare Made Easy", I became more and more excited to finish it because the information was strictly the facts.
Then it happened…
My hard drive died on my laptop, and I was looking at starting over. That didn't frustrate me because I knew this information like the back of my hand. Once I got my laptop back in working order, it took me about a week to finish it. Overall, it was about three weeks.
JP: What's next for Dr. Taffy Wagner?
TW: I'm going to continue to educate on Obamacare because open enrollment just started and there are still so many people confused and frustrated. There are people who can't even get onto the system. I will continue to educate and provide a solution for those who need it through online and offline seminars.
http://moneyandmarriage365.com
http://apdentalplan.com/twagner
http://facebook.com/Taffy.wagner
http://twitter.com/moneyinmarriage
http://twitter.com/nonfictionbook1
LinkedIn – Dr. Taffy Wagner
[include file=current-advertisers.html]