JoeyPinkney.com Exclusive Interview
5 Minutes, 5 Questions With…
Dr. Taffy Wagner, author of Obamacare Made Easy
(Money Talk Matters, LLC)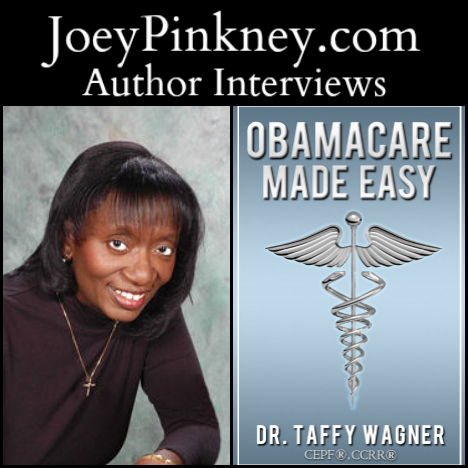 "Obamacare Made Easy" removes the politics and provides the facts about Obamacare – what it is, what the ten essential health benefits are, what happens if you do not participate, who is exempt without penalty as well as how it affects those who are self-employed, young invincibles, those on Medicare, Medicaid and much more.
This book provides the basics to help people make an informed decision when it comes to their health and household budget.
Joey Pinkney: Where did you get the inspiration to write "Obamacare Made Easy"?
Dr. Taffy Wagner: I'm a Personal Finances Educator and wanted to make sure I knew what Obamacare was about and how it would impact my family. Once I did the research and began conducting online and offline seminars, I realized there was still a lot of confusion. Continue reading 5 Minutes, 5 Questions With… Dr. Taffy Wagner, author of Obamacare Made Easy →