JoeyPinkney.com Exclusive Interview
5 Minutes, 5 Questions With…
Janice G. Ross, author of Jumping Ship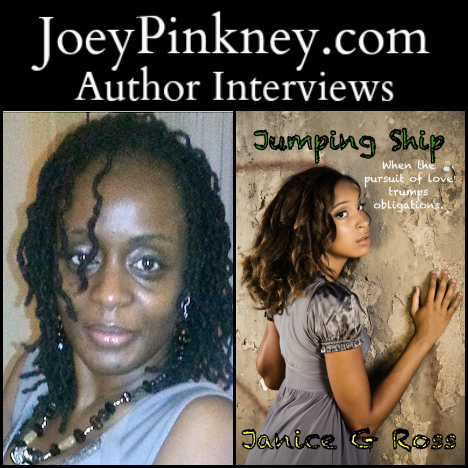 In 1975, pregnant seamstress Petrina Dugal became a runaway at the age of 26. She ran away from a brutish husband, Roger, and their home in Guyana, South America. At the heart of her rebellion – an enigmatic lover, Michael Chen. Pet and Mikey, allowed love to blossom in front of her police officer husband and an intrusive community. Were they not aware of the dangers? Or did the pursuit of love trump obligations?
Joey Pinkney: Where did you get the inspiration to write "Jumping Ship"?
Janice G. Ross: I was born in Guyana, South America, and migrated with my family to the States at a very early age. Although I've been privileged to have been brought up as a Guyanese child and exposed to the Caribbean culture, I craved for more of its rich lifestyle.
"Jumping Ship" sets the pace for a colorful series titled Island Hopping, about a young woman in search of her family. I initially began Sakkara's journey as a personal one, looking to dig out and reveal the glorious heritage of this region.
But I wanted to make it more than just a lesson in the the Caribbean. I wanted readers to not only fall in love with the countries, I wanted then to fall in love with the people. So I further developed "Jumping Ship" into a novel with romance, adventure and mystery.
JP: What sets "Jumping Ship" apart from other books in the same genre?
JGR: "Jumping Ship" falls into several different areas – Romance, Adventure, Mystery, Drama and Caribbean Literature. I believe it's a perfect combination to explore and appreciate.
JP: As an author, what are the keys to your success that led to "Jumping Ship" getting out to the public?
JGR: I am a passionate writer. It's more than just writing, to me. It's about knowing my characters – their wants, needs and deepest desires.
In every scene that I write, I mentally place myself there. If the scene calls for happiness, then I am experiencing happiness along with my characters. If the scene calls for sadness or emotional distress, then I am right there with my characters all the same.
I want to make sure that readers are able to live my books, not just read them.
JP: As an author, what is your writing process? How long did it take you to start and finish "Jumping Ship"?
JGR: My writing process varies from book to book. I currently have a book that I've been working on for about twenty months called "Presumptuous". It's very dark. I have to work on it whenever I can handle the level of evil I'm covering.
Yet, on the other hand, "Jumping Ship" only took about 3-4 months to complete. I have to gauge each book and try not to perplex my mind too much because I love to study my characters as best as I can.
JP: What's next for Janice G. Ross?
JGR: I am preparing to finalize a series title Damaged Girls about emotional, physical and sexual abuse. It'll be out in about a month. I hope to have my Creole Thriller, "Presumptuous", out by the end of the year. In 2014, I will be releasing the Island Hopping series, which is the series associated with "Jumping Ship".
http://facebook.com/Cultural.Cocktails
Talk show
http://blogtalkradio.com/culturalcocktails
Blog
http://jgrwriter.wordpress.com
Google+ https://plus.google.com/104579627944902429382/posts/p/pub?partnerid=gplp0
LinkedIn
http://linkedin.com/pub/janice-ross/58/691/894/
[include file=current-advertisers.html]