JoeyPinkney.com Book Review
"Omar: A Novel"
by Craig O. Thompson
5 of 5 Stars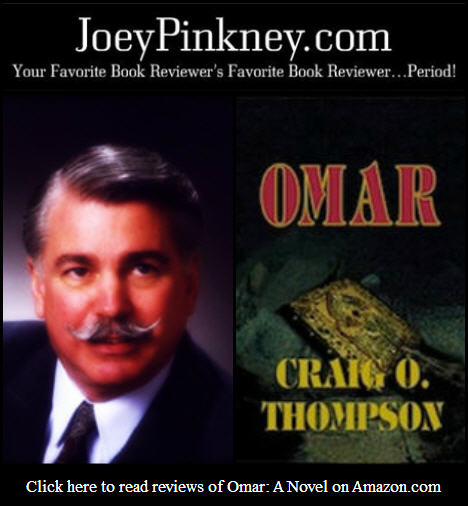 "Omar: A Novel" by Craig O. Thompson is a story of intrigue, deceit, sunken treasure and history. Centered around the RMS Titanic and a book – "Rubyiat of Omar Khayyam". The Great Omar is known worldwide as "the most magnificent book binding in the world". This book was bound with a cover made with various leathers, rubies, pearls, ebony, silver, satinwood, gold and many other additional precious stones and metals. It was being transported from England to America on the Titanic. In the gravesite of rusted metal and forgotten souls at the bottom of the ocean lies a book now worth over $30 million.
From the allure and legend that surrounded the existence of "The Great Omar", a story springs with various facets. There is the international legal discussion of whether or not the items found buried with sunken ships can be retrieved and who should be able to dive for the items. There is pervasive culture of global terrorism that is much closer than the average citizen believes could ever be possible. There is a struggle between government agencies and the individuals and groups who have their own political/religious agendas to complete.
Craig O. Thompson is an intellectual, a wordsmith, a researcher and a student of the craft of writing. "Omar: A Novel" is an intense mixture of these aspects of an author. Complex issues are explained in a way is viscerally entertaining. Yet subconsciously, the reader works through an intricate maze of interlocking facts and histories that seamlessly mesh with the fiction.
"Omar: A Novel" is edited superbly. The words don't get in the way of the story. The character development is on point as well as the settings. Coming in at over 600 pages, this is a longer read. It needs every bit of that space to lay out the intricate storylines found within.
If you are looking for a read that will make you think, this is the perfect book for you. The characters are realistic, the scenes are rich, the word choice is adequately descriptive and the action is intense. You will learn as much about the illustrious world of high-end bookbinding as you will learn about the ease at which terrorism is a reality of our society. "Omar: A Novel" by Craig O. Thompson is a great read.
http://BrightwaterPublishing.com
http://www.BusinessContinuityBCP.com
http://facebook.com/omar.ebook
http://www.linkedin.com/profile/view?id=26693554&trk=tab_pro
https://plus.google.com/107155484921079764328/posts
http://www.stumbleupon.com/stumbler/admin101
Author, Craig O. Thompson:
First 18-year-old accepted into the U.S. Peace Corps; Graduate, Northern Arizona University; B.S./M.A., Education; Lifetime credentials, Theatre Arts & Related Technologies; Award-winning author, speaker, and expert on terrorism, Thompson's background includes nearly 30 years continuing research on the subject; Keynote speaker on global terrorism and bio-warfare; leads disaster recovery planning workshops for the public, business, and government agencies; Communications director for the Int'l Assoc. of Counterterrorism & Security Professionals; former board member of the American Independent Writer's Assoc. (formerly WIW); member of the Assoc. of Continuity Professionals; and the Institute for Business & Home Safety
[include file=current-advertisers.html]