JoeyPinkney.com Exclusive Interview
5 Minutes, 5 Questions With…
Mary Judith Messer, author of Moonshiner's Daughter
(Doing Well Now Publishers)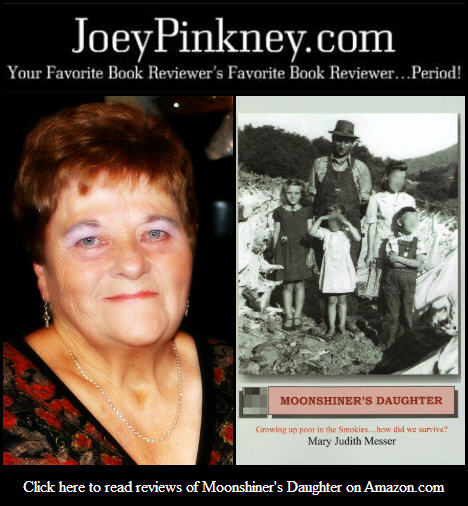 My book, Moonshiner's Daughter, is my real, early life story being raised "dirt poor" in shacks and hidden coves of Haywood County, North Carolina, in the Great Smoky Mountains.
Moonshiner's Daughter is also about my daddy, a mean drunk who made moonshine when he wasn't in prison, and my mother, beaten many times by him. She suffered brain damage in a accident as a young mother. They raised us four kids in some of the worst ways you have ever heard of.
Being poor, we also suffered from cruel teachers, principals, and neighbors. I finally left "hell" when I got a summer job at thirteen as a mother's helper for the Queen family in Waynesville, NC. When they moved to the Washington, DC area, I went too.
A year later, although I was safe and happy for the first time, my older sister called and begged me to come live with her in New York City; soon I was on the bus headed North with the Queens' blessings and jars full of change I saved up.
In spite of us being "hick" teenagers and me being underage for most jobs, we somehow managed to scrape by. Although I often got taken to Broadway shows and fancy restaurants, we both got "taken to the cleaners" many times and found out that not all mean people were left behind in North Carolina.
Joey Pinkney: Where did you get the inspiration to write "Moonshiner's Daughter"?
Mary Judith Messer: My whole life, I felt so angry that so many evil people in my childhood never got told on the cruel and illegal things they did to me and my sister and brother. One day I just started writing about those things in a spiral notebook and just kept writing and writing every chance I got. When it was finished, I felt so much better! Continue reading 5 Minutes, 5 Questions With… Mary Judith Messer, author of Moonshiner's Daughter →