JoeyPinkney.com Exclusive Interview
5 Minutes, 5 Questions With…
Mary Judith Messer, author of Moonshiner's Daughter
(Doing Well Now Publishers)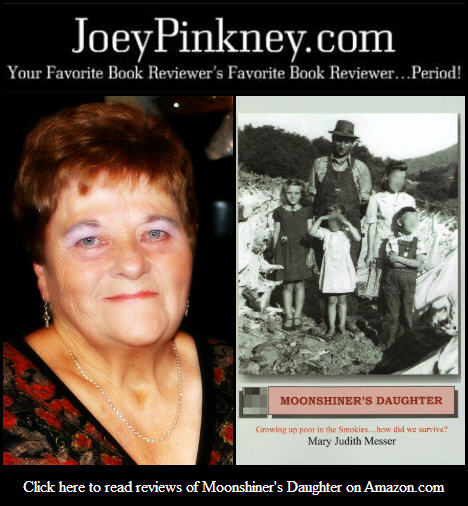 My book, Moonshiner's Daughter, is my real, early life story being raised "dirt poor" in shacks and hidden coves of Haywood County, North Carolina, in the Great Smoky Mountains.
Moonshiner's Daughter is also about my daddy, a mean drunk who made moonshine when he wasn't in prison, and my mother, beaten many times by him. She suffered brain damage in a accident as a young mother. They raised us four kids in some of the worst ways you have ever heard of.
Being poor, we also suffered from cruel teachers, principals, and neighbors. I finally left "hell" when I got a summer job at thirteen as a mother's helper for the Queen family in Waynesville, NC. When they moved to the Washington, DC area, I went too.
A year later, although I was safe and happy for the first time, my older sister called and begged me to come live with her in New York City; soon I was on the bus headed North with the Queens' blessings and jars full of change I saved up.
In spite of us being "hick" teenagers and me being underage for most jobs, we somehow managed to scrape by. Although I often got taken to Broadway shows and fancy restaurants, we both got "taken to the cleaners" many times and found out that not all mean people were left behind in North Carolina.
Joey Pinkney: Where did you get the inspiration to write "Moonshiner's Daughter"?
Mary Judith Messer: My whole life, I felt so angry that so many evil people in my childhood never got told on the cruel and illegal things they did to me and my sister and brother. One day I just started writing about those things in a spiral notebook and just kept writing and writing every chance I got. When it was finished, I felt so much better!
Just to get us kids' story on paper was so much relief. I felt like a huge ton of weight had been taken off my shoulders and off my heart. I never thought, when I wrote it, that I would get it published as "Moonshiner's Daughter".
JP: What sets "Moonshiner's Daughter" apart from other books in the same genre?
MJM: I think what sets "Moonshiner's Daughter" apart from other books like it (like "A Child Called It") is that I was able to tell about my life through the words and eyes of the female child and teenager that I was. I was able to remember how I explained things to myself when I was a kid and I think my voice as that young gal child rings true.
Also, the subject matters– spousal and child abuse, alcoholism, sexual assault, poverty, racism, hunger, among others–are hard things to talk about. The fact that I overcame so much and managed to create a successful life as a mother and business woman is inspiring, I'm told.
JP: As an author, what are the keys to your success that led to "Moonshiner's Daughter" getting out to the public?
MJM: You have to use all the means you can think of and work your butt off! Before it was even published, my editor and publicist (Buffy Queen) had several articles come out in area newspapers about me and the writing of "Moonshiner's Daughter", so we created "buzz" even before its release.
I went to the NC Writers Network Fall Conference. My editor and I got a few chapters to best-selling authors (and teachers) Robert Morgan and Ron Rash. They encouraged me and gave me some wonderful back cover blurbs of endorsements.
As soon as "Moonshiner's Daughter" was published, we started sending out press releases, lining up book signings at book stores and different clubs/libraries. We got it listed on Amazon. I also had my editor get it on Kindle and Nook, which has been very successful. The past several years, I also got my book placed in many, many stores and shops in Haywood County and Western NC, including The Pisgah Inn, Blue Ridge Book Store, City Lights Book Store, Malaprops Book Store and Accent on Books.
I made a simple book holder which stands up so that it gets easy, prominent display on counter tops for lots of the tourist shops in Maggie Valley, and the shop owners can easily see when the book is out so they call me or I stop by for refills. In addition, when someone comes to me and says how much they liked my book, I ask them to give me a review on Amazon.com if they have bought from them before. I have some amazing reviews on that site.
JP: As an author, what is your writing process? How long did it take you to start and finish "Moonshiner's Daughter"?
MJM: It took me about a year to write "Moonshiner's Daughter", in long-hand, in twelve spiral-bound notebooks. I have a used book store, so when business was slow, I would go and sit in my car where it was quiet and just write and write. I never thought of it as a book, just something that I had to write to get it out of my heart and mind.
I put it away for around five years. Then one day, I started talking about it to someone who said I should make it into a book. After some failed tries with several people who couldn't read my "creative" writing and spelling, I finally found a couple in South Carolina, Stuart and Nalley Osland, who could translate my Chinese chicken-scratchings into regular words and sentences and put it all onto a disc.
I had one trial run and gave the first version to my son. He said I couldn't publish it with real names and real places because I could be in danger since many of the criminals I talked about were still alive. My friend and former employer, Lois Queen, also read it and encouraged me and gave the manuscript to her daughter, Buffy, who was a writer, too.
Buffy read it and said she wanted to help me get it published because she thought the book was so powerful and moving. She took on the project of changing the names and locations and doing major line editing, which took several years because she was working a full-time job as well. She did some research and found a good printer, Selfpublishing.com, based on the recommendations found in "The Fine Print of Self Publishing", and I got our first 1,000 books printed and shipped. I have now sold over 5,000 copies and am looking for someone to option it for a movie.
JP: What's next for Mary Judith Messer?
MJM: I want to keep sharing "Moonshiner's Daughter" with everyone I meet so that anyone who has experienced childhood abuse or domestic violence will feel that I have given them a voice to talk about the abuse that they weren't allowed to talk about.
I also enjoy talking to people, in person and on line, who have read "Moonshiner's Daughter". I love hearing from them. They tell me that they pass it along to family and friends all the time. I just heard that a prominent doctor in Haywood County read it and couldn't put it down, she just was awestruck about it.
As I mentioned above, I would love to have "Moonshiner's Daughter" made into a movie to help all those people I hear from who suffered from abuse as children or wives. I would also love to have Oprah read it as well as Dolly Parton, so if you know of anyone who can get it to them, please let me know. Thank you!!!
http://moonshinersdaughter.com
http://www.facebook.com/mary.j.messer.9
"It's been a pleasure to be interviewed on your site. Thank you Joey Pinkney!
I donate books to the Within REACH Resale Store in Waynesville, NC, on behalf of REACH of Haywood, which is our county's domestic violence/sexual assault/elder abuse prevention and intervention agency. They also have a shelter for abused women and women and their children.
This was something that didn't exist for my mother and us kids back in the 40s and 50s. If it had, perhaps we would have been able to leave "hell" sooner. God bless you all." ~ Mary Judith Messer
[include file=current-advertisers.html]