JoeyPinkney.com Exclusive Interview
5 Minutes, 5 Questions With…
Michael A. Robinson, author of Butterfly
(Wahida Clark Publishing)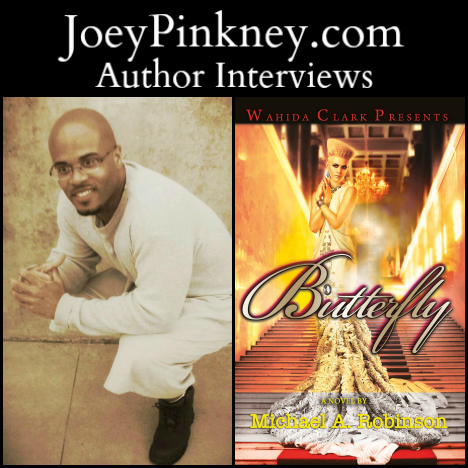 Rejected by a bitter father with high political ambitions and manipulated by a hungry wolf in sheep's clothing, Butterfly's greatest desire is to fly away. Her spineless mother adds to the anguish when she leaves Butterfly to fend for herself on the cold, unforgiving streets.
Like any desperate hustler, Butterfly gets on her grind and masters a few quick money-making schemes. For a brief period she enjoys the glitter and romance until her biggest lie creates a hostile frenemy who shows no mercy. Soon, Butterfly's troubled life tumbles violently out of control.
By chance she runs into Atwater, the perfect man with the perfect plan to stabilize her otherwise twisted world. With the lure of power and wealth beyond her imagination, Atwater entices Butterfly to undertake a part in his shiesty scams. Her acceptance will usher in what's sure to be a tumultuous storm that neither of them can escape.
Will Butterfly consent to temptation or fly away to free herself from Atwater's devilish arms?
Joey Pinkney: Where did you get the inspiration to write Butterfly?
Michael A. Robinson: I actually got the inspiration from reading Convict's Candy. I read the book from actually having met Damon Meadows. I thought the book was good, but I thought it victimized and judge transgenders for being gay and persecuted them at the end of the book. Continue reading 5 Minutes, 5 Questions With… Michael A. Robinson, author of Butterfly →