JoeyPinkney.com Exclusive Interview
5 Minutes, 5 Questions With…
Big Tray Deee and Anthony Barrow, author of Los Angeles Tymez: Urban Tales
(Ave Money Publishing)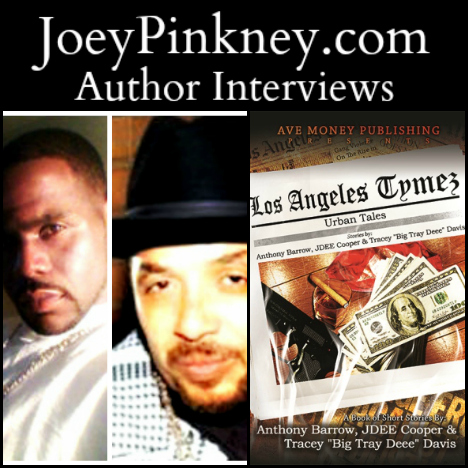 "Los Angeles Tymez" features three tall tales of urban grit that mix sex, drugs and game like a Molotov cocktail.
Joey Pinkney: Where did you get the inspiration to write "Los Angeles Tymez: Urban Tales"?
Big Tray Deee: I wanted to challenge my creative writing ability. Being a strong, solid male figure, I decided to step outside of myself and into the mental and emotional realm of what I imagined to be that of an everyday female stripper.
I've certainly been acquainted with several of them, along with frequenting enough of their establishments to be reasonably capable of comprehending their fundamental flavor and overall challenges.
Furthermore, I'm sure that there are countless young females who view stripping as just a cut-and-dried "shake yo' ass and grab the cash" venture, when a darker, more dangerous side exist that should be made known as well.
Anthony Barrow: I gained the inspiration to write this story from the things I have experienced in life, along with seeing the lack of urban books that are based from the West Coast. We have a story to tell.
JP: What sets "Los Angeles Tymez" apart from other books in the same genre?
AB: The authors of these short stories have lived the life that is written in the collaboration. Within our stories, we are able to take the reader on a journey that they can relate to.
"Los Angeles Tymez" is told from a West Coast perspective, something that the Urban Lit game is lacking. The subject matter, although it's an urban fiction tale that express a lot of negatives, takes the reader inside the mind of a young African male growing up inside the ghetto and what he's forced to deal with and how he adapts to his environment.
BTD: Though I always begin writing a story with the primary aim being to entertain readers, my innate proclivity is to do whatever I do well makes me always focus on giving my featured characters a soul, so to speak, while weaving a tale which is both intriguing, yet at the same time believable.
Many urban novelists whom I've read are either too detailed-oriented regarding the fashion and materialism of street culture or  create far-fetched lifestyles and plots which basically insult your logic and common sense.
JP: As an author, what are the keys to your success that led to "Los Angeles Tymez" getting out to the public?
BTD: This is actually one of those recurring questions that I was asked during the release and promotion of my first novel, "Streetz Gon' Cry". And as I said then, I'm certain that my being a platinum-selling Rap artist garnered the attention needed to capture interest in Mr. Barrow (my co-author on both books) and my manuscript.
Also, as I stated in the previous questions, I focus on writing and intriguing tale with unexpected plot twists. Ultimately, being a capable writer is the key to getting on the bookshelf. After, of course, God provides on the opportunity.
AB: Persistence, motivation and determination.
JP: As an author, what is your writing process? How long did it take you to start and finish "Los Angeles Tymez"?
AB: This was my first piece of work ever, so it took a few months. I prepared the story on paper, not concerned about grammar or punctuation. I went back and revised the story.
Before writing the outline, I process what is to be written while developing my story. I enjoy my system of writing, because it allows my ideas to flow.
BTD: Being a student of the game acquired in the city streets, I don't ponder and search my mind for a story to tell. I just allow them to come to me. I consider where to start the story, which characters to have carry the story and generally how to build the story to a satisfying climax.
Writing is a guilty pleasure. It allows me to not only transport my thoughts beyond these prison walls, but to firmly negate the stereotypical assumption that gangsters are incapable of successfully existing and competing outside of the world of crime, ignorance and predacity.
"Unforeseen", my short story, took between roughly 5 months to complete. It was written at a leisurely pace.
JP: What's next for Big Tray Deee and Anthony Barrow?
BTD: Mr. Barrow and I are currently collaborating on "Street Gon' Cry II: Johnté's Revenge". I'm still writing my own novel about the rivalry between the two biggest Crip gangs in Long Beach, CA.
It is fictional. I have the mix tape "Long Beach State of Mind", featuring all LBC artists coming very soon. And finally, my parole date is on the horizon: 9 months and counting.
AB: I'm also working on my solo project that's due to be released in mid-2014.
http://facebook.com/avemoneypublishing
http://twitter.com/BIGTRAYDEEE
http://twitter.com/BarrowAnthony
"Thanks for another interview, JP. Thanks to all the readers who purchased (or even just barrowed) Streetz Gon' Cry and / or Los Angeles Tymez. And remember: If you perceive and believe, you can achieve. Peace." ~ Big Tray Deee
"Be on the lookout for our new author Gregory Garrett's new novel titled "Not on My Block"." ~ Anthony Barrow
[include file=current-advertisers.html]