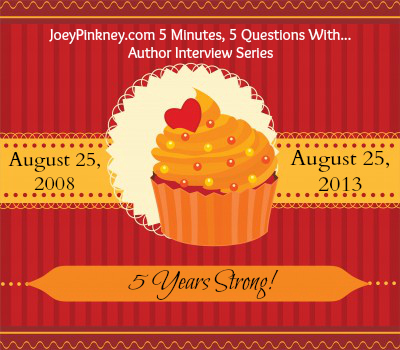 The "JoeyPinkney.com 5 Minutes, 5 Questions With… Author Interview Series" turns 5 years old today!
I am so proud to say that because this Author Interview Series has connected hundreds of thousands of readers to hundred of authors.
Five years ago, Facebook and Twitter were sparkles in their founders' eyes. Mainstream Social Media was pretty much Myspace. I put in many hours, sitting in my bedroom, clicking away at my computer. Why? Because I wanted to give Black authors to under-recognized authors an avenue to not just spread the word about their books, I wanted to give readers more.
Five years later, I have interviewed authors from around the world.
When I started this author interview series, I had no clue where it would lead, because I was focused on the inner-workings of "book life" from the authors' perspectives.
Many times, we see a book and the story begins.
I see a book and wonder about "the story" before the story. I also wonder about the story "after" the story. In other words, there is more to a book than the book itself.
Five years later, I'm still intrigued with the process. The who, what, when, where, why and even the how.
Special shout out to each and every author, reader and publisher that has supported this Author Interview Series over the past five years.
Here's to five more…
~ Joey Pinkney