JoeyPinkney.com Exclusive Interview
5 Minutes, 5 Questions With…
Digger Cartwright, author of Conversations on the Bench
(Xlibris)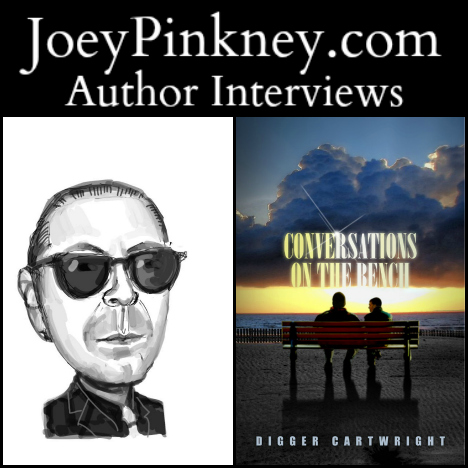 Life lessons, wisdom, wine, women, and simple conversations… An inspirational story based on actual events.
I only met Sebastian Peréy in person on one occasion, but that was enough for him to make a lasting and indelible impression. I'll never forget that day. Even though it happened many, many years ago, it still lingers as fresh in my mind as if it were only yesterday.
Joey Pinkney: Where did you get the inspiration to write "Conversations on the Bench"?
Digger Cartwright: The inspiration for "Conversations on the Bench" came from two friends, Sebastian and Robbie. Sebastian was a mentor to Robbie, sort of like Yoda to Luke Skywalker.
They shared a lot of common interests—politics, economics, wine, good conversations and debate, beautiful and intelligent women. But this book is really about Sebastian and the wisdom he had and shared not just with Robbie but with others. This is a tribute to the impact that Sebastian had upon many people in life.
He was a larger-than-life figure—one that would stand out in a crowd for his size and equally large personality. He was the type of guy you could turn to for good, solid, nonjudgmental advice. "Conversations on the Bench" was a project that I undertook at the behest of Robbie who wanted to share with others the lessons that Sebastian had share with him.
None of these lessons are any earth shattering revelations. They're all things that you pick up in life along the way, but they're shared from Sebastian's perspective based on his own experiences.
JP: What sets "Conversations on the Bench" apart from other books in the same genre?
DC: I think most other inspirational books tell one person's story and how they overcame some adversity in life. "Conversations on the Bench" is a collection of life lessons told through a series of conversations that Sebastian had with Robbie. It's an older brother-like figure sharing wisdom that he's gained throughout his life and through his own experiences.
This isn't the story of someone who had a hard life or had to fight some disease or overcome a debilitating injury. Unless you fought the same disease or had the same injury or a similar circumstance, it's hard to relate to that person. It's great to read their stories and you get a sense of satisfaction that if they overcame adversity so can you.
"Conversations on the Bench" has some lesson or some bit of insight that everyone can use. Not every lesson or every bit of wisdom may be relevant to the reader, but everyone can find something in the book to relate to. I've been told by readers that they feel like the book is speaking directly to them, and I think that's what's really important and what sets it apart from other motivational or inspirational books.
JP: As an author, what are the keys to your success that led to "Conversations on the Bench" getting out to the public?
DC: It's all about creating awareness of your book. There's something like two million books getting published each year either in print or digital format, so it's real easy to get lost among the sea of new works out there. My team has established a good following among our readers and fans via social media and traditional online outlets.
You just have to get the book in front of people, get it in their hands. Sometimes that's easier said than done. With "Conversations on the Bench", the book has something for everyone. It doesn't matter your age or gender or religion or education or position in life or how much money you have.
There's something in "Conversations on the Bench" that each person who reads it can relate to or take away from it. This book probably has a broader appeal to people for that very reason than perhaps my mystery novels, so "Conversations on the Bench" is simply appealing to the motivational or inspirational need in people's lives and encouraging them to pick it up and see if Sebastian's wisdom helps them.
When it comes to other books, like my mystery "Murder at the Ocean Forest" or my western "The Maynwarings" for example, success is largely a function of building a presence, awareness, and reputation. Anyone can write a book. That doesn't mean that it's good or commercially marketable, but just about anyone can write a book if they take the time and inclination.
Fewer people are going to write a second book or a third or a fourth and so on. I think the more you write the more credibility as a serious indie author that you gain. I think that plays a big role in making an indie book successful, as it gives readers and fans a sort of stability and confidence in your writing endeavors. And you've got to communicate with your readers and fans, make them aware of your books and keep your name in front of them. Social media and the online world make that a lot easier.
JP: As an author, what is your writing process? How long did it take you to start and finish "Conversations on the Bench"?
DC: "Conversations on the Bench" was a bit of a different writing process for me. Basically when I start a fiction novel, I first make some notes about what I want to happen and who I want the characters to be. I formulate the story and create an outline of sorts as a guide for the story. Then, I just start writing.
Since "Conversations on the Bench" was based on real people and actual events, I had to take a bit of a different approach. It took me a while to get comfortable with the idea of the project, since it represented a departure from my normal style and genre.
I only met Sebastian and Robbie on one occasion before I started writing the book. Granted, that one occasion involved interaction over a couple days, but that was hardly enough to be familiar with either of them to be able to write the book.
So, after I had committed to writing this, I had many phone conversations and some e-mail exchanges with Robbie. This was a lot of research that needed to be done so that I could capture Sebastian and his lessons in the book. I'd call Robbie and let him talk for as long as he wanted to talk. He'd tell me stories and explain the lessons and in what context Sebastian had made the lessons relevant to him. This part of the process took the longest.
It probably took three or four years off and on. I'd get sidetracked or Robbie would get sidetracked, and sometime it would be tough to connect and talk. But once I got all the information I needed, I sat down to write the book and pretty much took the same approach as with any other book.
I had a good deal of notes about the main characters, so I didn't have to create them out of nothing. I sorted through all the notes and organized them then made an outline of what I thought would be the best way to present the conversations and lessons. Once I started writing it took me about seven months to finish the manuscript.
All told it was a much lengthier process from start to finish than what is normal for me. "Murder at the Ocean Forest" took me about three months to write. "The Versailles Conspiracy" took a couple of years. "The House of Dark Shadows" and "The Maynwarings" took about seven months each. "Conversations on the Bench" was a much bigger project. It took a lot longer. I don't rush things, because I don't want to release a book that isn't exactly up to my own personal standards, and I think the readers and fans appreciate that.
JP: What's next for Digger Cartwright?
DC: I've been getting a lot of encouragement on the heels of "Conversations on the Bench" to write another inspirational book. Folks that have read it have really enjoyed it and said the book really spoke to them. I'm not sure if that's a function of my storytelling or of Sebastian's storytelling and wisdom.
I don't know what the follow up or next inspirational subject would be. I've thought about it long and hard. If I were to do another motivational book it would probably be called "Conversations on the Links" and would revolve around conversations I've had with people that I've golfed with over the years.
As I think about it, there have been some pretty good conversations on the golf course, and I've been lucky to be part of those with both friends and colleagues. I'm not sure it would be as moving as "Conversations on the Bench" or as meaningful, but it's a consideration.
I'm currently working on a drama entitled "Gems & Jewels". It's about a powerful family that owns mining operations for precious stones and the associate retailing enterprise. It's sort of a modern-day Dallas or Dynasty but in a different industry. It has the family drama, business drama, backstabbing, wheeling and dealing, sex and intrigue. It's also a bit of a departure from my normal writing, but it's going to be an interesting series.
I have plans for follow ups to "The Versailles Conspiracy" and "Murder at the Ocean Forest" and a sequel for "The Maynwarings" in addition to several new ideas that I'm working on. So, I've got a lot in the works, but time for writing is a premium between everyday life and business. But I think my readers will really enjoy some of the upcoming projects.
http://diggercartwright.wordpress.com/
http://facebook.com/diggercartwright
http://twitter.com/diggercartwright
[include file=current-advertisers.html]