JoeyPinkney.com Exclusive Interview
5 Minutes, 5 Questions With…
Ric Nero, author of Revealing Revelations
(Pink Kiss Publishing)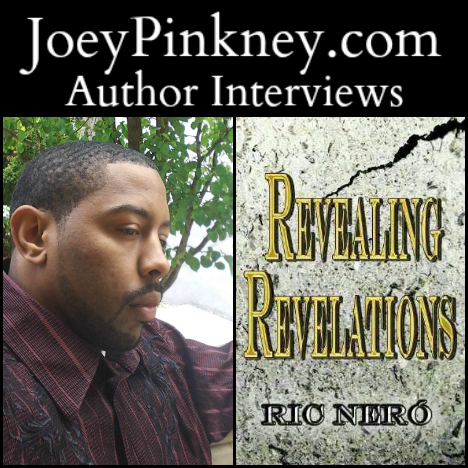 "Revealing Revelations" about two men from two worlds focusing on bringing down the hidden agendas of secret society's hidden plans. Secret after secret the unveil just to find themselves in biblical apocalypse.
Joey Pinkney: Where did you get the inspiration to write "Revealing Revelations"?
Ric Nero: Some may say pure imagination. I believe God led me to "Revealing Revelations".
JP: What sets "Revealing Revelations" apart from other books in the same genre?
RN: The simple fact that I openly express in a fictional story the same conversation people share with each other in the safety of being behind closed doors sets "Revealing Revelations" apart.
JP: As an author, what are the keys to your success that led to "Revealing Revelations" getting out to the public?
RN: My first key is very essential to my work. That's God. As long as he's first, I know I'll never have a worry.
I don't get lazy. I wake up every morning and either hand out flyers or sell "Revealing Revelations". Everyone's a potential customer!
JP: As an author, what is your writing process? How long did it take you to start and finish Revealing Revelations?
RN: "Revealing Revelations" has actually taken more of my time than the others coming after it. I took a year and a half perfecting it, actually using life experiences.
I focus on three things when I write: life experiences, religion, and things the public discuss behind closed door that they are unwilling to say in public. When I write, I see the story as a motion picture. I simply write what I see.
JP: What's next for Ric Nero?
RN: I'm finishing part two of "Revealing Revelations". Afterwards, I have planned out an incarceration story called "Exile" as well as a life experience story I recently started that I'll title "Soap Operas". It will be a series of novellas telling the harsh reality of a relationship I underwent in my recent past. Stay on the look out for Ric Nero. You'll never know what to expect in the future.
http://pinkkisspublishing.com/RicNero.html
http://facebook.com/ search Author Ric Nero
"I'd like to thank you and everyone for their time." ~ Ric Nero
[include file=current-advertisers.html]